Maertz SALES AND Repair LLC

Maertz Repair is a family owned and operated business with over 32 years experience in auto and truck repairs and service. It is an authorized Bumper to Bumper Service Center; located conveniently between Reedsville and Brillion on County K.

Completely computerized, Maertz Repair is always on the leading edge of diagnostic service information and repair techniques. This includes attending monthly auto classes and keeping their certifications updated, with hybrid service being their most recent certification. Equipped with the newest in diagnostic tools and equipment, your car or truck will get the most innovative treatment it deserves.

Maertz Repair has three full-time technicians to service your vehicle in a timely manner. Services include oil changes, tires, brakes, shocks, batteries, exhaust, tune-ups and fuel injector services as well as major engine and transmission diagnosis and repair. A new rollback has been added to provide a towing service for those in need.

The 10,000 square foot shop consists of a spacious reception area, five in-ground hoists, wash bay, holding area and provisions to service cars and trucks including light, medium and heavy duty.

The Maertz family prides itself in being a caring and trustworthy shop, with true family values. Let their family take care of your family's automotive needs.



Wayne, Shelly, Andrew and Timothy Maertz

21017 County Road K • Reedsville • 920-864-7000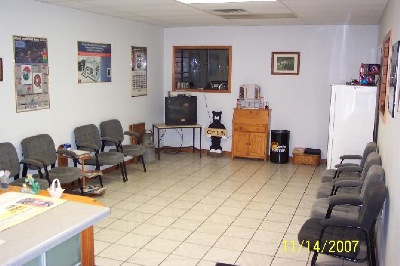 Our Reception area.